Artland 3D
Enable a Global Audience to Visit Your Exhibitions
Make it possible for collectors, curators, critics and art lovers to visit exhibitions in your gallery premises anytime, anywhere with our leading 3D technology. Recordings are made fast and efficiently all over the world by our trained technicians. Share your exhibitions with your audience and ours, online forever.
Create an Unrivalled Archive of Your Exhibitions
Artland 3D not only revolutionizes the digital communication of exhibition content but also the documentation and archiving of it. Hosting exhibitions is at the heart of every gallery's core mission of representing artists—whether for gallery, artist, collector, museum or media, in Artland 3D your gallery's exhibitions can live forever.
Use Your Recordings on Your Own Gallery Website
At Artland we understand that galleries take pride in their own unique brand and aesthetic identity. We give you the means to add your recordings to your own websites in a simple, user-friendly way. Embedding the recordings to your gallery website has the important benefit of increasing organic web traffic to your site.
Use the tags to showcase specific information about the artworks
Facilitate and drive sales with the use of tags for visitors to directly request artworks. Use the tags to show the information about the work and lead the visitor directly into a page where they can request the work directly.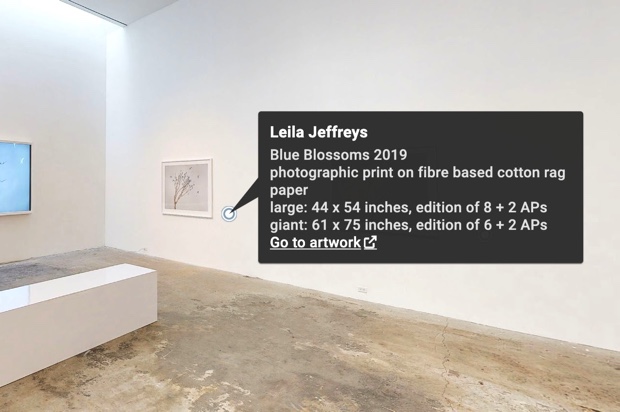 Share engaging content on Social Media
Artland 3D recordings also generate vibrant summary videos of the exhibition overview. Optimized for social media these eye-catching videos drive additional interest and engagement.
Galleries using Artland 3D
Galerie Thomas Schulte uses Artland's Art Guide to drive more traffic online and to their physical gallery space located in Berlin, Germany. The Artland gallery guide has proven to be a beneficial tool for Galerie Thomas Schulte to engage with new collectors and sell artwork to people who are visiting Berlin and are looking for an all in one credible source that directs visitors to their gallery.
Sean Kelly Gallery is on a mission to engage with new collectors and art enthusiasts far and wide. Sean Kelly are utilizing the Artland 3D gallery recordings monthly to continuously allow collectors from around the world to see their exhibitions. The 3D gallery recordings elevate their online presence and at art fairs presenting to collectors the opportunity to view past and current exhibitions as if they were in their physical gallery space.
Gallery Kukje has been a member since December 2019 and uses the 3D service and art guide to expand their audience. Since their first exhibition was recorded, Kukje gallery has generated thousands of unique visitors online to view their exhibitions and continues to develop an international fan base.